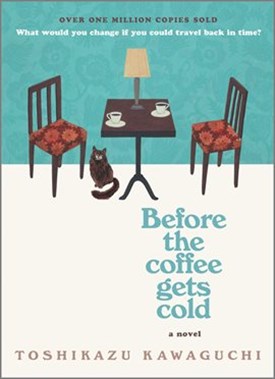 Before the Coffee Gets Cold
Author:
Toshikazu Kawaguchi
Read by:
Arina Ii
Genre:
Magical Realism
Publisher: Hanover Square Release Year: 2020 Length: 208 pages / 6h 52m
What would you change if you could travel back in time?
Down a small alleyway in the heart of Tokyo, there's an underground café that's been serving carefully brewed coffee for over a hundred years. Local legend says that this shop offers its customers something else besides coffee-the chance to travel back in time.
The rules, however, are far from simple: you must sit in one particular seat, and you can't venture outside the café, nor can you change the present. And, most important, you only have the time it takes to drink a hot cup of coffee-or risk getting stuck forever.
Over the course of one summer, four customers visit the café in the hopes of traveling to another time: a heartbroken lover looking for closure, a nurse with a mysterious letter from her husband, a waitress hoping to say one last goodbye, and a mother whose child she may never get the chance to know.
Heartwarming, wistful, and delightfully quirky, Before the Coffee Gets Cold explores the intersecting lives of four women who come together in one extraordinary café, where the service may not be quick, but the opportunities are endless.
"Kawaguchi's tender look at the beauty of passing things, adapted from one of his plays, makes for an affecting, deeply immersive journey into the desire to hold onto the past. This wondrous tale will move readers."
— Publishers Weekly
"Kawaguchi's characters all have a role to play, and the way they interact with each other, between the staff and the patrons, creates an environment where the reader, too, can feel welcomed and optimistic."
— The Chicago Review of Books