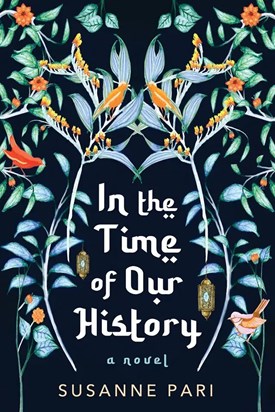 In the Time of Our History
Author:
Susanne Pari
Read by:
Mozhan Marnò
Genre:
Family Life Fiction
Publisher: Kensington Books Release Year: 2023 Length: 384 pages / 11h 52m
Inspired by her own family's experiences following the 1979 Islamic Revolution, Susanne Pari explores the entangled lives within an Iranian American family grappling with generational culture clashes, the roles imposed on women, and a tragic accident that forces them to reconcile their guilt or forfeit their already tenuous bonds.
Set between San Francisco and New Jersey in the late-1990s, In the Time of Our History is a story about the universal longing to create a home in this world-and what happens when we let go of how we've always been told it should look.

Twelve months after her younger sister Anahita's death, Mitra Jahani reluctantly returns to her parents' home in suburban New Jersey to observe the Iranian custom of "The One Year." Ana is always in Mitra's heart, though they chose very different paths. While Ana, sweet and dutiful, bowed to their domineering father's demands and married, Mitra rebelled, and was banished.

Caught in the middle is their mother, Shireen, torn between her fierce love for her surviving daughter and her loyalty to her husband. Yet his callousness even amid shattering loss has compelled her to rethink her own decades of submission. And when Mitra is suddenly forced to confront hard truths about her sister's life, mother and daughter reach a new understanding-and forge an unexpected path forward.
"I fell in love with this jewel of a novel from the first page."
— Amy Tan, New York Times bestselling author of The Joy Luck Club
"For fans of sweeping family sagas, this is like catnip."
— Publishers Weekly | https://www.publishersweekly.com/9781496739261