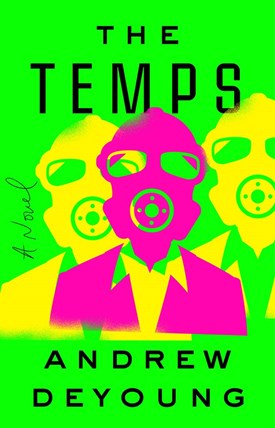 The Temps
Author:
Andrew DeYoung
Read by:
Paul Heitsch
Genre:
Fiction, Dystopian & Literary
Publisher: Turner Publishing Company Release Year: 2022 Length: 264 pages / 10h 13m
Check out our virtual event with Andrew DeYoung and narrator Paul Heitsch on hoopla's YouTube channel!
They're underemployed. Underpaid. And trying to survive the end of the world while trapped inside an office complex. Who knew temp work could be this dangerous?
Jacob Elliot doesn't want a temporary job in the mailroom at Delphi Enterprises, but after two post-college years of unpaid internships and living in his parents' basement, he needs the work. Then, on his first day, the unthinkable happens: toxic gas descends on a meeting in Delphi's outdoor amphitheater, killing all the regular employees and leaving Jacob stranded inside the vast office complex.
Wandering through Delphi headquarters, Jacob finds other survivors: Lauren, the disillusioned classics major who's now writing online personality quizzes; Swati, the fitness instructor trying to escape a toxic relationship; and Dominic, the business school student who will do almost anything to get ahead. Stranded in the wreckage of the company that employed them, the temps band together to create a miniature world that's part spring break, part office culture—until a shocking discovery disrupts the survivors' self-made paradise and drives them to uncover the truth about the mysterious corporation that employed them and the apocalypse that brought their world to an end.
A surprising, profound tribute to the absurdities and paranoia of modern life, The Temps is an epic exploration of survival and human connection in the digital age.
"Simultaneously a dark dystopic and a hilarious tale of bureaucratic absurdity, The Temps is bizarre—and unexpectedly fun."
— Booklist, starred review
"DeYoung has taken a familiar end-of-the-world-as-we-know-it theme and made it something uniquely his own. Readers won't soon forget it."
— New York Journal of Books